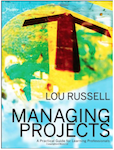 Lou Russell's book Managing Projects: A Practical Guide for Learning Professionals offers organizations a pathway to build practical competencies in the discipline of project management using targeted processes, tools, techniques and influencing skills for the types of projects most organization employees manage.
We are excited to have Lou speaking and giving a workshop at E-Learning Symposium 2015
Giveaway has ended. We'll notify the winner shortly. More giveaways coming soon
Click to review giveaway rules.