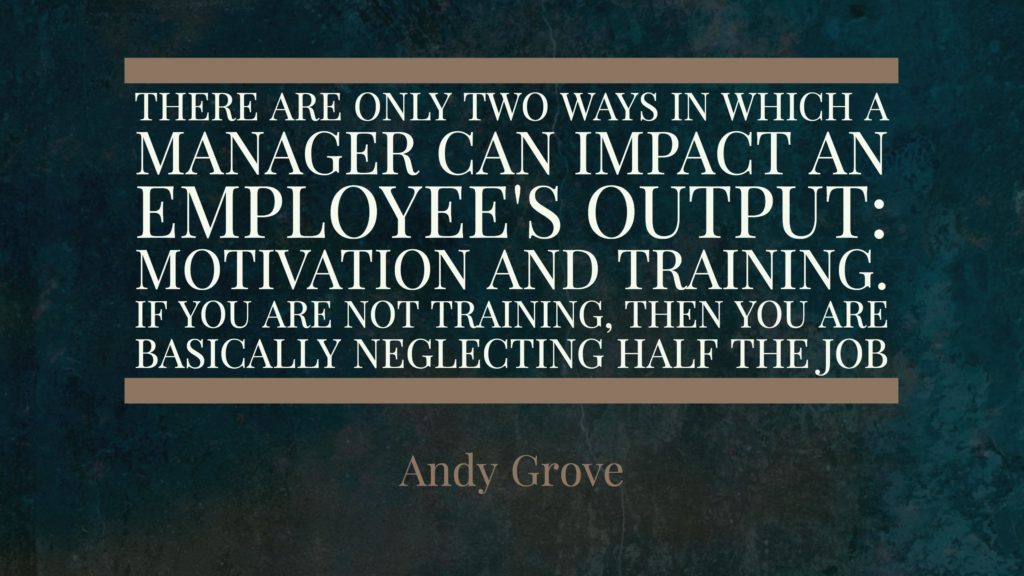 Andy Grove was the legendary founder and the CEO of Intel. He navigated the company through many crises, most notably the Japanese domination of the memory business. By changing strategies to focus on producing processors, Mr. Grove transformed Intel into the world's largest manufacturer of semiconductors. Intel produced the first commercially available processor—the Intel 4004. The Intel 8088 was the heart of the PC Revolution.
Mr. Grove was a passionate teacher. He shared his knowledge within his company in many classes that he personally taught. For the rest of us he wrote books including the seminal management book High Output Management. and Only the Paranoid Survive: How to Exploit the Crisis Points That Challenge Every Company..
Ten Favorite Training Quotes from High Output Management
…there are only two ways in which a manager can impact an employee's output: motivation and training. If you are not training then you are neglecting half the job.
From the Forward by Ben Horowitz
High managerial productivity, I argue, depends largely on choosing to perform tasks that possess high leverage. A team will perform well only if peak performance is elicited from the individuals in it.
Training is, quite simply, one of the highest-leverage activities a manager can perform.
If the employee is immature in the task, then hands-on training is essential. If the employee is more mature, then a delegate approach is warranted.Andy presents a great example of this: "The subordinate did poor work. My associate's reaction: 'He has to make his own mistakes. That's how he learns!' The problem with this is that the subordinate's tuition is paid by his customers. And that is absolutely wrong.
From the Forward by Ben Horowitz
For training to be effective, it has to be closely tied to how things are actually done in your organization.
For training to be effective, it also has to maintain a reliable, consistent presence. Employees should be able to count on something systematic and scheduled, not a rescue effort summoned to solve the problem of the moment. In other words, training should be a process, not an event.
The person standing in front of the class should be seen as a believable, practicing authority on the subject taught.
Some 2 percent to 4 percent of our employees' time is spent in classroom learning, and much of the instruction is given by our own managerial staff.
At Intel we distinguish between two different training tasks. The first task is teaching new members of our organization the skills needed to perform their jobs. The second task is teaching new ideas, principles, or skills to the present members of our organization.
Let chaos reign, then rein in chaos.